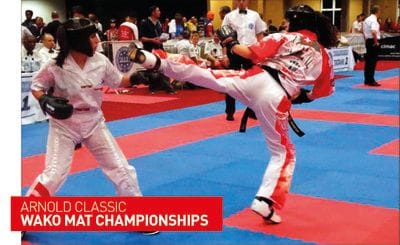 EVENT
DIRECTOR

Silvio Morelli

EVENT
PROMOTER

Francis McArdle





5th Dan Black Belt Geido Kai Karate Do

CEO Blitz Publications & Multi-Media
Group Pty Ltd

President
WAKO Australia

Contact Lauren Weisner
wakomat@arnoldclassic.com.au

P: 0413 700 083
Arnold Classic Martial Arts Festival
WAKO Mat

The World Association of Kickboxing Organisation (WAKO) is the largest international organisation of Kickboxing to cater for the novice competitor through to the elite athlete in a range of combative styles available to all age groups and disciplines of Martial Arts. From Point Fighting to K1, the WAKO provides Australian Athletes with a safe competitieve outlet, professional and qualified referees and the ability to cultivate Australian Martial Arts to an international standard.


The Arnold Classic WAKO Mat Championship is a Goodwill event open to all WAKO Mat practitioners regardless of affiliation.
Every registered competitor will receive an event entry kit including an exclusive Arnold Classic gift, a commemorative Arnold Classic poster, health and fitness products, vouchers, and a 3-day Expo Pass.