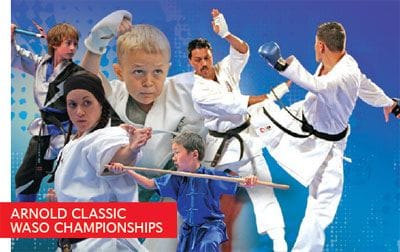 EVENT
DIRECTOR

Silvio Morelli

EVENT
PROMOTER

Jim Casey
5th Dan Black Belt
Geido Kai Karate

CEO Blitz Publications & Multi-Media Group Pty Ltd

7th Dan Chief Instructor
Kenshinkan International Karate

WASO President
NAS President

Contact Us
worldallstyles@arnoldclassic.com.au

P: (07) 5535 9816
M: 0402 695 717
Arnold Classic Martial Arts Festival
World All Styles - NAS

The World All Styles Organisation and its Australian arm, the National All Styles tournament circuit, bring together a multitude of martial artists of all ages, skill levels and styles for competition and camaraderie in equal measure. Whether you're ready to show your skills in point-sparring, continuous sparring, forms/kata, weaponry, self-defence demonstrations or extreme MA or you just want to see some of Australia's best martial artists in action you'll want to be at the Arnold Martial Arts Festival's World All Styles Championships.

The Arnold Classic WASO Championship is a Goodwill event open to all Martial Arts practitioners regardless of affiliation.

Get your gi on and get ready!



Every registered competitor will receive an event entry kit including an exclusive Arnold Classic gift, a commemorative Arnold Classic poster, health and fitness products, vouchers, and a 3-day Expo Pass.